Mar/09 23
Burgoynes Golf Day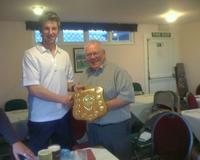 Burgoynes Golf Day
Saturday 21st March 2009
The first ever Annual Centenary Golf Day for Burgoynes staff took place on Saturday, at Kington Golf Course.
Everyone was a winner!!
With fantastic weather and great company who could ask for more?
And what about the golf – very good question. There were 17 players of very mixed abilities, from novices to experts.
Who did what – here we go:
Top of the shop – Rob Cadwallader with an impressive 31 points
Nearest the pin - Wayne Morgan
Longest Drive – Phil Jenkins
2nd Andrew Westlake
3rd Philip Jenkins
4th James Burgoyne
5th Wayne Morgan
6th Dave Holloway
7th Dave Morgan (Wayne's Dad)
8th Tom Evans
9th Vince Lloyd
10th Graham Neilson
11th Krystian Grabarz
12th Steve Williams
13th Charlie Simpson
14th Jonah Griffin
15th Graham Williams
16th Malcolm Thompson
17th Pawez (ex Polish employee)
Thanks to you all for competing and proving a highly entertaining afternoon. We all enjoyed Kevin's Bacon baps in the morning and a steak and kidney pie in the evening and some drinks provided by the company.
Malcolm