Aug/09 12
Burgoynes v Brightwells Cricket Match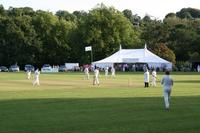 Burgoynes v Brightwells Annual Cricket Match took place on Friday August 7th 2009 on a lovely warm summers evening.
Brightwells won the toss and inserted Burgoynes to bat first, who proceeded to make 170 for 6 wickets.
Chris Ball scored 40+ runs!
Brightwells then batted, and struggled from good bowling and fielding by the Burgoynes team, and finished up 33 runs short.
Many family and friends enjoyed a convivial evening and a good time was had by all.
We look forward to playing Brightwells again next year!